This weekend, I went to PGL Liddington (near Swindon) for the second time, with Bathampton Scouts.
We arrived 20 minutes late due to bad traffic coming out of Bath, and were shown to our rooms and introduced to our host - Nicky (who had taken us for crates last year). We then had dinner, which was fish & chips. After than, we played a wide game in one of the huge fields on site.
At 10pm the scouts went to bed while the leaders and I went to the 'Library' before going to bed just before midnight.
The next morning I got up just before 7:30am for breakfast at 8:05am. After breakfast we were split up into our groups and Nicky took us to meet our instructors for the morning. My group (2) did aeroball while the other group (1) did abseiling.
Aeroball
When we got to the aeroball (basketball on trampolines if you didn't already know), we found it was layered in sheets of ice, with snow of the netting of the roof.
Each time we went on it, the layers of ice on the trampolines would break up into freezing cold shards which had to be swept out and made all our feet go numb. I scored to highest score - 8 'goals' in a row.
Abseiling
We then switched over and went to abseiling. Everyone had a go and we were quite quick so we each got three goes abseiling down the 40ft tower.
We then all went inside and had lunch and got prepared for the afternoon activities which were archery and crates.
Archery
We then went to archery where we played several games etc... where you had to hit specific colours and parts of the targets.
Crate Challenge
We then swapped with the other group and went to crate challenge. This is where you have to build a tower out of milk crates and climb it as you do so, and try to make it as high as possible. This had previously had been the scouts favourite activity but we felt that it had been made over the top with health and safety as we now had to clip the crates together with little carabiners and had a base to start from. Despite this, it was still enjoyable and we reached about 11 crates high (18 the year before, but there was a time limit this time instead of going until it fell over like last year.)
After crates, we all went inside and had dinner. At 10, the scouts went to bed while the leaders went to the 'library' where we wasted all
Simon
's money playing an eggheads quiz machine. Afterwards we found that we had been locked out, so had a snowball fight at about midnight whilst trying to get in the building, until eventually we were let in by one of the PGL staff, and went to bed.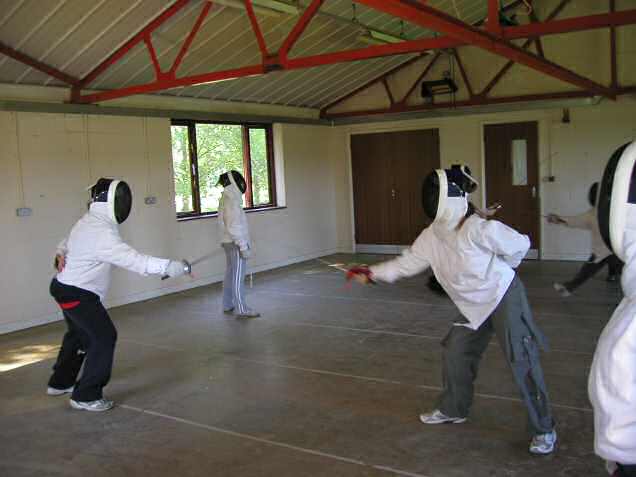 The next morning we got up at about 7:30am and went to another soggy and bland breakfast. My group then went to fencing (in which I beat everyone) and then went to climbing (in which everyone beat me) - I'm very bad at climbing!
We then went in for lunch and got ready for the afternoons activities.
We then went to the first of our afternoon activities - Quad-biking, which was quite good but we only had one quad bike so there was quite a lot of time when we couldn't do it while others were. We then went on to our final activity, zip-wire. This, again was quite good, but not nearly as good as last year where we got 9 goes and set the record for the number of goes on an activity.
After this we went inside and ate dinner before packing up and changing into our uniforms and leaving.